Nashville, IN (10/29/2012) –The Blingstar MAXC Racing Series season finale was held this past weekend in beautiful Nashville, Indiana. Named the "Big Nasty" the MAXC crew worked hard to create one of the best and most challenging tracks at the former Ski World ski resort.
As you may have guessed the  "Big Nasty" MAXC featured many elevation changes and took riders over many of the abandoned ski slopes making the racing at MAXC Round 10 exciting for both racers and spectators. The track was 7 miles in length and consisted of many mowed hillsides, open fields, tight woods, off cambers, and of course many hill climbs. Several of racers stated that the "Big Nasty" MAXC was one of the most challenging courses this season.
Lonestar's Adam McGill once again made the 5-hour drive from West Virginia to race the final round of the MAXC ATV Racing Series. There, McGill would take his fourth consecutive win at the MAXC Round 10 in Nashville, Indiana. After grabbing second in the first turn, Adam McGill applied pressure to Kevin Cunningham who grabbed the MZM Performance Holeshot award and made the pass to gain the lead when Cunningham got caught in some brush and crashed.
"I had a pretty good ride going and I was still in third. I got to the top of the Pro hill and I got hung up on a big stick that went clear threw my heal guard. Brycen (Neal) got hung up behind me and I helped him get undone.  I ended up having to run clear down over the hill to get some other people to help me get the quad undone. We ended up having to use a knife to cut the nerfbar nets to get the quad undone" said Cunningham Racing's Kevin Cunningham.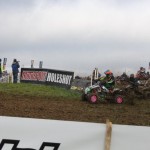 Crawfordsville, IN (10/20/12) –  Grand National Cross Country IRONMAN, Kevin Cunningham running the pink colors for breast cancer awareness ended up with another victory for 2012 finishing first in the Sportsman A Class and first Overall. Continue reading →